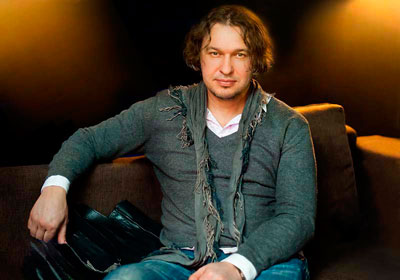 Eduard Anikonov was born in 1966 in the iron capital of Russia — Magnitogorsk. From 1983 to 1987 he majored infine art in Fine Arts College of Sverdlovsk.
In 1991, Anikonov entered the School of Graphics at St. Petersburg Repin Academy Of Arts.
In 1997, Anikonov attended an exhibition at Gloucester County College (New Jersey, USA), organized by GCC's Professor Emeritus Ross Beitsel and the local school board president John Zucal — both participants of Russian-American teacher exchange program "Hands across the Water" (called so after a Paul McCartney's song).
From 1997 to 2000 Anikonov repeatedly visited the "artist quarter" in Philadelphia, PA. At that time he participated in a number of Art shows in multiple private galleries of Philadelphia.
At one of the open house events, Eduard Anikonov met Leslie Barany, the agent and art director for Hans Rudi Giger (the Oscar winner for the "Alien" movie), as well as many other young and promising American and European artists.
March 1998 highlighted another outstanding event in the artist's career — his participation in New York City's Art Expo.
In 1998 Anikonov received a private invitation from Leslie Barany to visit HRGiger's home, studio and museum in Switzerland. Later on, this acquaintance grew into friendship that is lasting until now.
At Los Angeles Art Expo in 1998 Anikonov began receiving his first private artwork orders in the USA. While it seems hard to measure the role of these exhibitions in the artist's career, it is worth mentioning that Anikonov was one of those few Russians who blazed their way abroad independently, not in trailers that carried Russian and Soviet art out of the country to the west in 1990s.
In 2001, Anikonov painted the posthumous portrait of John Zucal, one of the board members of the Hands Across the Water program, who helped organize Anikonov's first art shows in the US. The portrait was later passed over to the Zucal family and Chuck Chiarello, Mayor of Buena Vista, NJ, where John Zucal lived and worked.
During years 2000 through 2007 Anikonov was working in his studio in Sevastopol, Ukraine. These years turned out to be the time of searching for new meanings in his creative work.
A presentation of the art project "Art Territory Cape Fiolent" took place in Magnitogorsk Drama Theater as part of the "Theater Unlimited" national Festival.
Anikonov was the first in Magnitogorsk to open an Internet site that introduced viewers to his entire library of artworks.
In 2003 the film director Andrei Heilovsky shot a film "The life style of Eduard Anikonov" that was shown on regional TV in Magnitogorsk.
In 2006 when Magnitogorsk was preparing to celebrate the 75th anniversary of its Iron and Steel Works Anikonov was granted an opportunity to paint at the Steel Mill and create his industrial series of works. Mayor of Magnitogorsk facilitated that chance for the artist.
In 2007 Eduard paints two works "Nameless Time I and II". They have become crucial for Anikonov's artistic creativity. His manner of painting was changing, the artists was evidently searching for new themes and meanings.
The highlight of 2007 and 2008 was the artist's participation in the Carnivora project — a book and art show that took place consecutively in Detroit, MI, Los Angeles, CA, New York, NY and San Diego, CA. The opening show in Detroit stirred a lot of interest with the audience that could see "Carnivora — The Dark Age of Automobiles" art show after visiting the famous annual Detroit automobile show.
In 2009-2010 Art Gallery ALLRUS organized the first premium-class show of modern Russian art in Vienna as part of the "Art of Russia" Exhibition. More than 80 works of celebrated modern Russian artists were represented there, Eduard Anikonov among them.
The exhibition "Austria as seen by the Russian masters" has been planned for 2011. A number of open-air sessions will be planned for Russian artists in 2010-2011. Gallery AllRus has also planned publishing a big catalog of its artists.
In 2010 Anikonov participated in the Castello de Reschio art project in Italy.
Eduard's works can be found in many private collections in Russia and abroad. Thus in a wonderful chance one of his works happened to sit in the French movie star Anne Girardo's collection. Many a time did Girardo visit Magnitogorsk. In 1994 she visited Magnitogorsk twice, the second time as President of the melodrama film festival Crystal Tear that was organized by Magnitogorsk Drama Theater. A foyer art show by the then art student Eduard Anikonov was an eye-opener for the audience. When Anne was given Anikonov's painting "Coffee" tears appeared in her eyes...